8 Weird Los Angeles Museums
Los Angeles is packed full of amazing museums, from the Los Angeles County Museum of Art to The Broad, but there's also a long list of smaller, weird Los Angeles museums catering to very specific interests. Check out these eight museums that focus on everything from broken relationships to collections of bunnies.
216 S Brand Blvd, Glendale
Glendale's Museum of Neon Art "encourages learning, curiosity, and expression through the preservation, collection, and interpretation of neon, electric and kinetic art."
Previously located in downtown Los Angeles, the museum collects neon signs and kinetic art. Notable signs in the museum's collection include the Brown Derby and Grauman's Chinese Theatre. The museum also offers a weekly "neon cruise" where attendees board a bus which drives around Los Angeles educating passengers about neon signs.
2605 Lake Avenue, Altadena
Hopping over to Altaneda is worth it when your destination is The Bunny Museum.
This Guinness World Record listed museum has more than 34,000 bunny artifacts (and multiplying, because, bunnies). The museum is open 365 days of the week, so whenever you start feeling your nose twitch and need a bunny fix you can get it. Yes, they have house bunnies.
1122 West 24th Street
Part museum, part performance venue, and part film house, the Velaslavasay Panorama houses "the only painted, 360-degree Arctic panorama created in the United States since the nineteenth century."
In addition to the panorama, visitors will find a replica of an Arctic trading post and an exhibit dedicated to the history of silent Hollywood and Inuit people.
6031 Hollywood Blvd. 
The Museum of Death isn't only one of the weirdest museums in Los Angeles it's also, easily, the most morbid.
Behind the skull-bedecked doorway you'll find "The world's largest collection of serial murderer artwork, photos of the Charles Manson crime scenes, the guillotined severed head of the Blue Beard of Paris (Henri Landru), original crime scene and morgue photos from the grisly Black Dahlia murder, a body bag and coffin collection, replicas of full size execution devices, mortician and autopsy instruments, pet death taxidermy, and so much more!"
9341 Venice Blvd, Culver City
Photos are verboten inside this museum which adds to the mystique.
The best description of this quirky little museum comes from the Smithsonian magazine:
"The Jurassic Technology Museum is a witty, self-conscious homage to private museums of yore, such as the 16th-century Ashmolean at Oxford, where objects from science, nature and art were displayed for the "rational amusement" of scholars, and the 19th-century Philadelphia Museum, with its bird skeletons and mastodon bones. The phrase "Jurassic technology" is not meant literally. Instead, it evokes an era when natural history was only barely charted by science, and museums were closer to Renaissance cabinets of curiosity."
711 New High Street
The Velveteria has a collection of more than 3000 velvet paintings and at any one time, more than 500 can be viewed on the walls. The museum is broken down into thematic sections including a section dedicated to President John F. Kennedy, another to influential Californians, and one section, lord help us, dedicated to clowns.
If you're thinking to yourself "how can a velvet painting collection be complete without a blacklight room?" don't worry, they have that covered.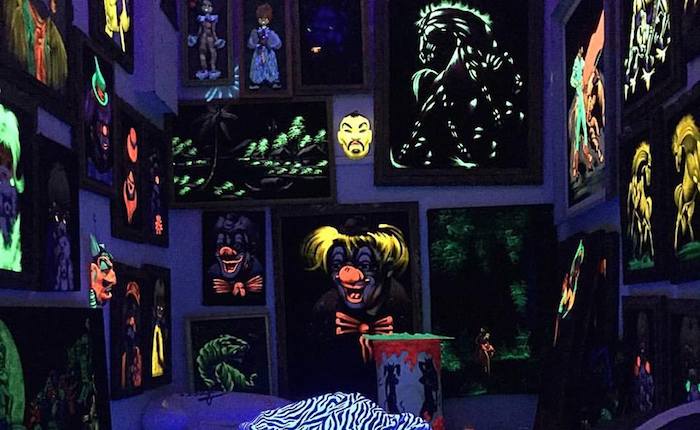 6751 Hollywood Blvd.
A museum of everyone, because everyone has experienced a broken heart. Except for that one guy who broke your heart. He's cold and unfeeling but now you can put those broken pieces on display in a Los Angeles museum.
The Museum of Broken Relationships is made up of donated items that represent a broken relationship. As the museum says "Love relationships may end; relationships with family members, business partners, cities, religions and even with our former selves may end.  But we learn and move on.  The dislocation of a broken relationship may be isolating, but the experience is universal.  No one is alone in this."
421 Colyton Street
One of the youngest museums in the Arts District, The Animal Museum is also, arguably, the most unique. The museum's mission is "dedicated to enriching the lives of animals and people through exploration of our shared experience. To this end, The Animal Museum promotes respect for life and compassionate ethics in advancing healthy, meaningful interconnections with the animal world." 

A solid example of what you'll find at the museum is the recent exhibition "SPOM: Sexual Politics of Meat." It explored "the ways that women and animals are marginalized and objectified in patriarchal cultures."
This Weird Los Angeles Museums post was originally published in May 2017 on the defunct UpOut.com.